1966
Just to page 3 for the candid photos that class members took and sent in. I expect them to be included in the Memory Book. If you want a copy, tell me what number photo it is, and I will send it to you.
(email gwegener4098@gmail.com)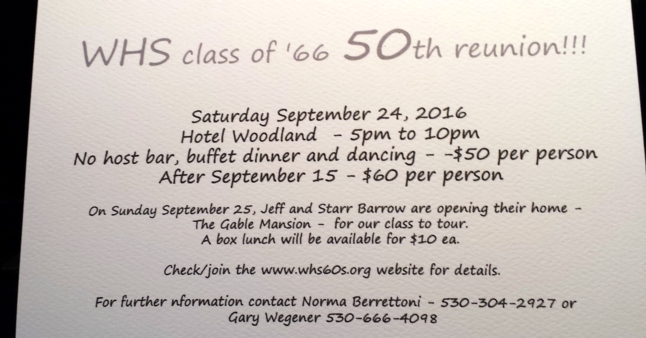 Twas a great time had by all.
And thanks again to Jeff and Starr for the perfect wrapup gathering Sunday at the Gable Mansion.
We had a great 50th Reunion committee - lots of new faces. Norma Berrettoni Plocher is the ring leader. Co-conspirators include Debbie Wetzel Bruno, Larry Hoppin, Stan Ochoa, Vickie Anderson Unruh, Linda Amacher Burke, Therisa Canevari Friedrich, Nancy Daily Spann, Andy Jaimes, Loree Joerger Bianchi, Marsha Michalak Gorman, Virginia Roath Atkeison, Connie Waldeck Beard, Gary Wegener, and Jeff Barrow.
Keep your contact info updated on the website, and encourage others to join so we can have an even better turnout next reunion. (Thoughts are for another decade reunion in 2018.)
Questions/comments? Forward to Norma normainbarn@gmail.com or Gary gwegener4098@gmail.com