1968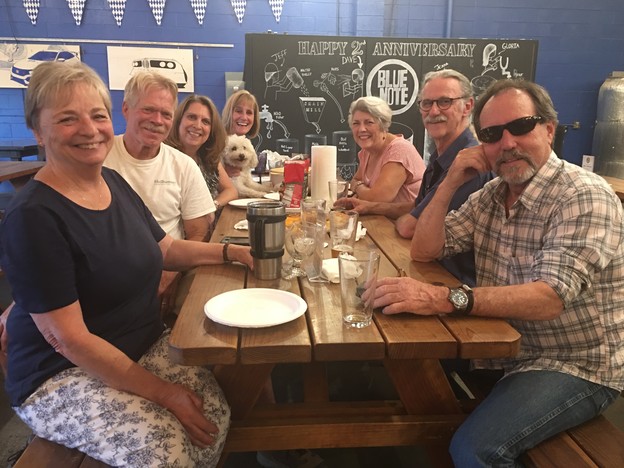 Had a planning meeting for our Class of 1968 upcoming 50th reunion. We adjourned to the Blue Note in Woodland. Thought I'd share this photo. Also class of 1968, please get your reservations in - we have fairly low attendance so far and it is going to be an amazing event! We need to plan on food for the event mostly and seating, so please get your reservations in as soon as possible. And pass the word on to any that you know or are in touch with from our class. Thanks.
LIST OF WHS '68 REUNION ADDENDEES AS OF 5/23/18
Lynn Alderson Parish Carol Ramsey Rico and spouse
Kathleen Alves Molumby Paul Richied and spouse
Jess Andrade and spouse Charley Roberts and spouse
Sherry Bailey Westland and spouse Vincent Rodriguez and spouse
Ron Black and spouse Lynn Rollins Wilson
Linda Blann Shuette and spouse Nancy Rollins Gantz
Cindy Bourn Clark Kay Rominger Huff and spouse
George Campbell and spouse Kris Rominger and spouse
Marty Carrion and guest (sister Rita) Joanie Tauzer and spouse
Lurae Dahl Bailey and spouse Kathy Thornsberry Carrion
Fred Delevati and spouse Janet Vaughan and guest
Jean Duncan Miller Doug Wirth
Carol Dunton Stone and spouse Sherry Wright Mata and spouse
Joe Duzan and spouse
Gary Dyer and spouse
Chris Faltis (and spouse?)
Sueze Fong
James Fruit and spouse
Van Joerger and spouse
Louise Johanson Valencia and spouse
Mark Lampinen
Paul Lieberum and spouse
Mosey McGriff Meszeros and guest
Keith Meng and guest
Lynn Miracle Picco and spouse
Bruce Nicholson and guest (daughter Holly)
David Parrish
Garon Parsons and spouse
Missing Classmates- Woodland High Class of 1968 (updated 5/25/18)
Alan Aoki located George Ellis George Jenks Donald Miller
Joe Amaro Thomas Ellison Alfreda Jimenez Larry Miller
Jean Artlip (McKinzie) Edward Fernandez Olga Jimenez Linda Miller
Christine Atkins Sueze Fong located George Jaurez Robert Mills
Thomas Baird III Charles Foutch Franklin Keown Rosy Montovani
Dorothy Bow Kathy Fowler (Correa) Richard Kepplin Tony Moyer
Robert Boyd Jolene Gailey Lorna Kleespie Marcelino Munoz
Emmett Brannan Lilia Garcia Vicky Knauss Diana Munsey
Eldon Brown Nancy Georgeson Earnest Kruse Sandra Mysewski
Richard Caldwell James Gibson Anna Kusick Gerald Nakagaki
Sandra Caldwell Sandra Gillette (Amen) La Vonne La Maureaux Daniel Navarette
Monica Campos Connie Gregory Pauline Liclican (Smith) Donald Norris
Joe Casillas Jack Hamilton Joseph Lienart Frances Ocampo
Gail Castor Janet Hamilton Valerie Lopez Jan Ohl
Gualberto Chavarria Susan Hannagan (Carr) James Loy James Oliver
David Cook Theresa Harris (Tozier) Cipriana Macias (Hoguin) Dana Osborn
Lynn Cossette Jane Hartwig (Strubble) Alfreda Martinez Kristina Owen
Dorothy Daly Margie Hill Dennis Mapalo Christine Pantelone
Mark Davis Sandra Hobbs Patricia McAllister (Scott)
Robert Davis Billie Holears James McAnally Linda Pasanen (Burger)
Earla Defoe Patricia Hoover Ronald McIntyre Mark Pingree
Judy Dickey Carol Horgan (Knight) Gary McPherson Jenny Pope
Jill Dingman Daniel Howard Maria Medina Beverly Poppen
Bonnie Dodson Charlie Humrick Marvina Medina Patsy Rhinehart
David Grimshaw Kirsten Isgreen Ethel Meitner Diane Rich
Sally Eichberg Leslie Jacobs Michael Millard Isabelle Rico (Wyatt)
Miguel Rivera
Terry Rogers Maryanne Flores
Elias Rodriquez
Lydia Rosito
Belinda Ruiz (Gomez)
Christine Sachs (Pena)
Roger Sans
David Silva
Joanne Silva (Danielson)
William Sims
Henry Sissom
Joann Sparks
Rolf Staib
Dennis Stewart
Beverly Tesch (Silguero)
Steven Thayer
Bruce Thorn
Mary Trejo
Ernie Vigil
Elizabeth Walfrid
Edgar Webb
Kevin Westbrook
Larry Whitlock
Howard Wren
Ira Yerman
Ralph Fink
Maria Hernandez (Jaurez)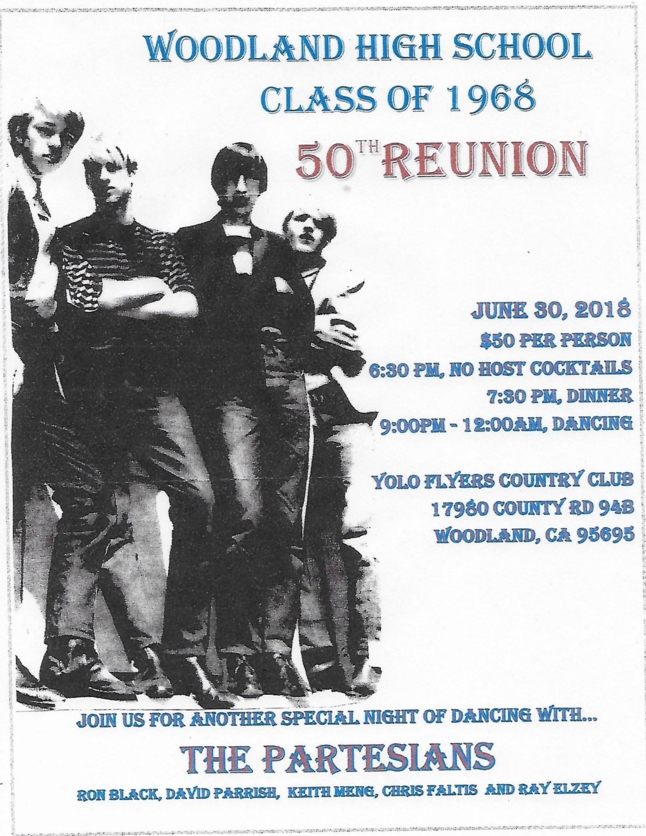 Click here for the invitation to the 50 year reunion, and info on how to sign up. Hope to see you in June.
MIssing Classmates: Here is a link to download a pdf file with the below listed names of missing classmates, as of April 6, 2018. If you are on the list, or know someone who is and have contact info, please send to Paul Lieberum, pslieberum@gmail.com
Missing Classmates- Woodland High Class of 1968
Alan Aoki George Ellis George Jenks Donald Miller
Joe Amaro Thomas Ellison Alfreda Jimenez Larry Miller
Jean Artlip (McKinzie) Edward Fernandez Olga Jimenez Linda Miller
Christine Atkins Sueze Fong George Jaurez Robert Mills
Thomas Baird III Charles Foutch Franklin Keown Rosy Montovani
Dorothy Bow Kathy Fowler (Correa) Richard Kepplin Tony Moyer
Robert Boyd Jolene Gailey Lorna Kleespie Marcelino Munoz
Emmett Brannan Lilia Garcia Vicky Knauss Diana Munsey
Eldon Brown Nancy Georgeson Earnest Kruse Sandra Mysewski
Richard Caldwell James Gibson Anna Kusick Gerald Nakagaki
Sandra Caldwell Sandra Gillette (Amen) La Vonne La Maureaux Daniel Navarette
Monica Campos Connie Gregory David Grimshaw Pauline Liclican (Smith) Donald Norris
Joe Casillas Jack Hamilton Joseph Lienart Frances Ocampo
Gail Castor Janet Hamilton Valerie Lopez Jan Ohl
Gualberto Chavarria Susan Hannagan (Carr) James Loy James Oliver
David Cook Theresa Harris (Tozier) Cipriana Macias (Hoguin) Dana Osborn
Lynn Cossette Jane Hartwig (Strubble) Alfreda Martinez Kristina Owen
Dorothy Daly Margie Hill Dennis Mapalo Christine Pantelone
Mark Davis Sandra Hobbs Patricia McAllister (Scott)
Robert Davis Billie Holears James McAnally Linda Pasanen (Burger)
Earla Defoe Patricia Hoover Ronald McIntyre Mark Pingree
Judy Dickey Carol Horgan (Knight) Gary McPherson Jenny Pope
Jill Dingman Daniel Howard Maria Medina Beverly Poppen
Bonnie Dodson Charlie Humrick Marvina Medina Patsy Rhinehart
Kirsten Isgreen Ethel Meitner Diane Rich
Sally Eichberg Leslie Jacobs Michael Millard Isabelle Rico (Wyatt)
Miguel Rivera Mark Lampinen
Terry Rogers Maryanne Flores
Elias Rodriquez
Lydia Rosito
Belinda Ruiz (Gomez)
Christine Sachs (Pena)
Roger Sans
David Silva
Joanne Silva (Danielson)
William Sims
Henry Sissom
Joann Sparks
Rolf Staib
Dennis Stewart
Beverly Tesch (Silguero)
Steven Thayer
Bruce Thorn
Mary Trejo
Ernie Vigil
Elizabeth Walfrid
Edgar Webb
Kevin Westbrook
Larry Whitlock
Howard Wren
Ira Yerman
Ralph Fink
Maria Hernandez (Jaurez)