WHS60s financial reports
Wrap-up of the Sept 2013 WHS 60s Decade Reunion

(770 attendees)

...
(Oct 31 2013 update)
Click here
for a
financial summary

of the reunion
.
We have ~$2500 left for
the next big one
...
Periodic Reconciliations 6 July 2014 21 August 2015 10 April 2016 8 Sept 2017
Click here for the Planning Committee listing and who did what at the event, with contact info.
Questions/corrections, contact Gary Wegener
At the Planning Committee wrap-up meeting Oct 3rd, the Executive Committee recommended that $200 from the proceeds of the reunion be given back to each class, as seed money for their next function. Additionally, they recommended that $10,000 from the proceeds of the reunion be presented to the Woodland Schools Foundation for use at their discretion at the three Woodland High Schools, in part as a thank you for their volunteer support during the reunion event, and in the spirit of 'giving back' to the high school(s) as a thank you for our "high school experience". (This would leave $2000 plus 'seed money' for the next WHS60s event.)
Based on the concurrence of the Planning Committee members present, $200 checks were distributed to each class (click here for details) and ...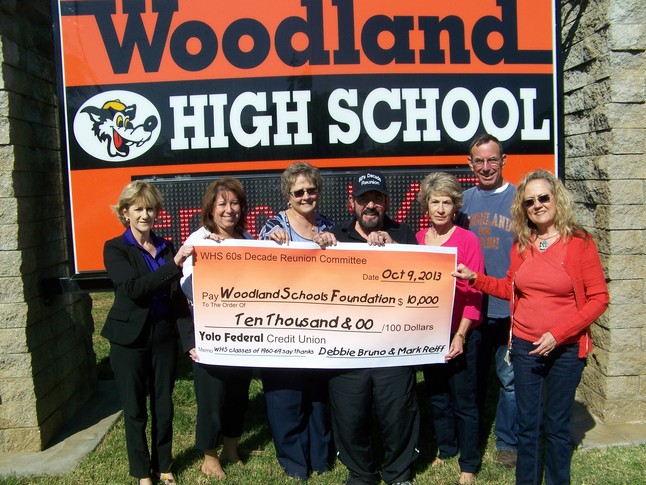 (left to right): Kathy Aukes, WSF board chairman, Tania Garcia-Cadena, WSF board member, recieving the check from WHS 60's Decade Reunion Executive Board members Joan Lucchesi, Frankie Lopez, Dee Kindelt, Gary Wegener, and Debbie Bruno.
Questions: contact Gary Wegener or Joan Lucchesi Richter